SOURCE MATERIAL
October 13 – November 2, 2016
inCube Arts
314 W 52nd St #1, New York, NY 10019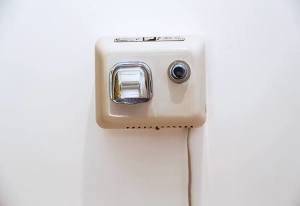 NARS Foundation is pleased to present Source Material, an exhibition that brings together the work of five NARS alumni: Sandra Erbacher, Cecilia Jansson, Euyoung Hong, Christine Rebhuhn and Alisha Wessler at inCube Arts.
The artists in this exhibition condense different sources of material, functions, and associations into a singular object or image that serves as a further source of information, sensory modalities and affect. Subtly altered readymades or compositions of organic, ephemeral, or synthetic materials — often contradictory or abstract — that are part object, part sculpture occupy an indeterminate space between the real and artificial. By interrupting, reconfiguring or mashing up the function and meaning of everyday things, such as say a hockey helmet and freezer build up, or a hand-dryer and on-hold music, the artists, Christine Rebhuhn and Sandra Erbacher, more than posit their material and ontological status in relation to industry, design and commodification, let the materiality mediate a visceral experience of unease and suspension.
The uncanny feeling these objects embody or arouse, from recognizing the familiar as strange and suggestive, are differentiated by distinct material and conceptual approaches. Cecilia Jansson's sculpture composed of porcelain and bread is a disturbing hybrid of refinement and the crude in an exoskeleton body. Alisha Wessler's ghoulish masks of found objects and manipulated materials carry the psychic and physical emotive quality effigies imbued with folk-magic or morbid commemorative death masks. Euyoung Hong's work looks at the places of others, corners, peripheries, which are frequently overlooked, abandoned and disappearing, and reproduces this sense of marginalization in the gallery space, encapsulating the anxiety that foregrounds the exhibition.
For further information, please contact us at www.narsfoundation.org / info@narsfoundation.org / 718-768-2765.
NARS programs are made possible with public funds from the Decentralization Program of the New York State Council on the Arts, administered in Kings County by Brooklyn Arts Council (BAC).