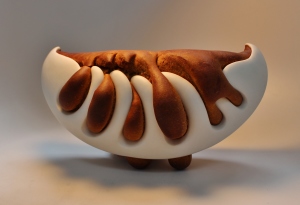 Örebro University and Örebro Art College are pleased to present the exhibition self by Cecilia Jansson.
The exhibition features recent works from the series Cultivation, porcelain and bread sculptures made in New York, 2016; selected works from the series Identiteeth, porcelain sculptures made in Jingdezhen, 2011; and the complete Zhinü´s sisters series, hand knotted silk carpets made in Henan, 2014-2015.
A common denominator is the aim to point out structures in society. Human behavior often hides preconceptions and prejudices, as we sort each other into groups. Our basic need to label people is worth investigating. What purposes do these labels serve? To what extent can we create our own identities? How do we value people we perceive as different from ourselves?
Opening Nov 24 4pm

I utställningen self visas nya verk från serien Cultivation, porslin och brödskulpturer gjorda i New York 2016; valda verk från porslinsserien Identiteeth, skapade i Jingdezhen 2011; och hela serien Zhinü's systrar, fyra handknutna silkesmattor gjorda i Henan, 2014-2015.
Den gemensamma nämnaren är en vilja att på olika vis peka på strukturer i samhället. Vanliga beteenden döljer ofta förutfattade meningar och fördomar – vi tenderar att sortera in varandra i grupper. Detta grundläggande behov av att sätta etiketter på folk är värt att undersöka. Vilka ändamål tjänar dessa etiketter? Hur, och i vilken utsträckning, skapar vi våra egna identiteter? Hur värderar vi människor som vi uppfattar som annorlunda?
Vernissage Nov 24 16.00
The exhibition hall Örebro University.
Nov 24 – Dec 16 Monday -Thursday 9-19, Friday 9-15.30.